Yet Another Reason to Bless the Rains Down in Africa
After reading through today's news stories consisting of a child beaten to death, a shooting leading to a car plowing into a home, stabbings in Edgewater, and a human skull discovery, Chicagoist yearns to enlighten you about something a little lighter, a little prettier, a little less riddled with death and violence (well, on the surface, at least). Because we care.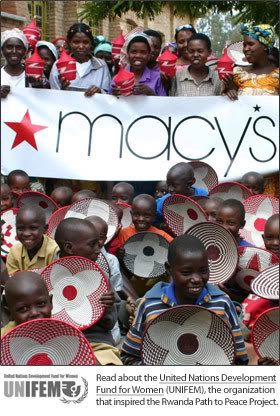 Beginning tomorrow, Macy's on State Street presents Gardina Africana, the first spring flower show to grace the store since 2002.
The first floor of Macy's will be adorned with African flowers and exotic foliage flown in from specialty greenhouses and growers from all over the world. They are boasting an "immersive experience" for visitors with flowers at ground level, eye level and above. Beyond the plants, the show will also feature the art, music and life of Africa.
Yes, this will all look and smell nice, but there is a bigger message here. Philanthropy. The African Garden theme was inspired by Macy's "Path to Peace" project, in which the store carries handmade baskets made by women genocide survivors in Rwanda. Also, the Peace House Foundation, a non-profit working to aid children affected by AIDS in East Africa, will be featured at the show.
So, tear yourself away from all of the bad news, put aside your Macy's/Fields grudge and peruse the African foliage, art, cooking demos and gift boutique. You owe it to yourself, you've officially made it through another Chicago winter.
Image via Macy's.